News
TBI and Visual Consequences Podcast
August, 2018
Celeste was a guest on neuro-optometrist Dr. Doug Stephey's "Move, Look, and Listen" podcast, with host Tim Edwards. This audio is a mind-boggling "look" at how the brain and vision interact in so many fundamental ways.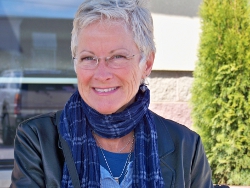 Gentle Intro to TBI: Celeste on the Radio
July 26, 2018
Our own Celeste was a guest on Brain Injury Radio with Terry Smith! She gave a wonderful introduction to the world of traumatic brain injury, shared her personal experiences, and offered some great tips on how to venture forward and find help. (Note: Celeste's segment runs from 19:40 to 56:48 minutes)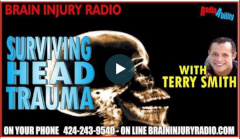 Listen on Terry's Website
Stroke Awareness Day at PVHMC
May 19, 2018
Bridging the Gap proudly gave out smiles and information at Stroke Awareness Day at Pomona Valley Hospital Medical Center. Doctors, nurses, therapists, and many friends met us there — it was a wonderful experience! The energy, knowledge, and assistance shared was very gratifying.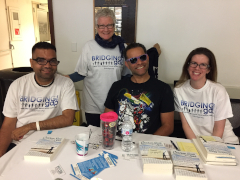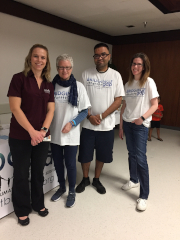 June Snodgrass — April 2018
April, 2018
June and her husband, Wayne, and their daughter, Robin, I met years ago at one of our support group meetings in Claremont, CA.
June attended, slowly explaining about her stroke with her husband and daughter quick to tell us what they "knew" June was going to say.
With a little (sigh) coaching from Celeste they soon learned that June wanted to use her own voice. She just needed a little longer to prepare the words in her head and get them out in a conversation. Soon she would have "her say" in the meeting and everyone was happy to wait until she completed her thoughts. Robin many times said, "Is that it, Mom?" The group would chuckle and June would say "Yes" or "No" and on we went.
Wayne has Macular Degeneration and is a born advocate. He's a great person to go to for advice.
Their 65 year marriage is a testament to determination and courage. They have 6 kids and 16 grandchildren and 17 great grandchildren. With spouses a family photo would be about 50 people, give or take!
I've met 3 of their 6 kids- Robin, Mike and Steven. This is an amazing family. We have been honored to know them and to have them share their trials and tribulations through the years.
Our beautiful friend, June passed this month. We will sadly miss seeing the sparkle in her eyes, her quick smile, her determination and "tell it like it is" attitude. She has not only been my treasured friend all these years but my Hero. (I hear you, June! She told me often that I was her hero and we ARE each other's heroes!)
She frequently reminded us - Believe. Be patient. Never give up!
June and Wayne have
videos
on this website. Please enjoy them. With love and appreciation, Celeste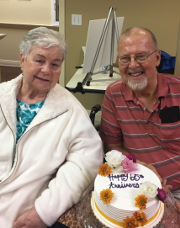 We are on Amazon Smile
March 16, 2018
We are pleased to announce we are registered with Amazon Smile! When you shop with Amazon Smile, and when you designate Bridging the Gap as your charity, Amazon donates a small portion of their profits to us.

2017 Fundraiser Hit a New High-water Mark!
October 15, 2017
Donations were at an even higher level at our 2017 fundraiser! Mountain Village Senior Apartments was our gracious host again for our 5th annual event, and we are very grateful to you all for raising $2,200.00!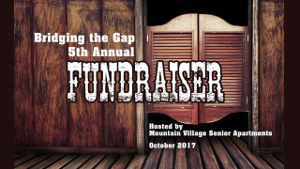 2017 Scholarship Recipient Ivan Garrett
August 18, 2017
We're thrilled to feature the recipient of our 2017 Citrus College scholarship, Ivan Garrett! More info to come.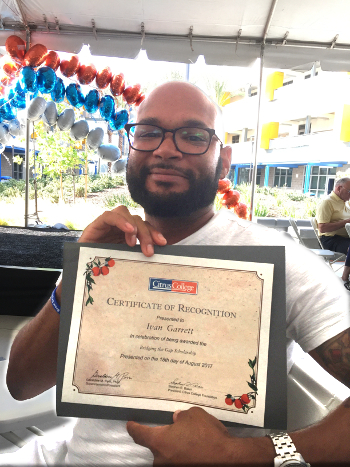 Scholarship Dollars at a New High!
October 8, 2016
Our 4th Annual Fundraiser on October 8 was a riproaring success! With the help of the kind and generous angels at Mountain Village Senior Apartments, we raised even more money than in previous years! A big THANK YOU to all those involved.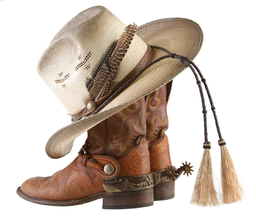 Scholarship Given at Citrus College
August 13, 2016
Nursing student and Army veteran Tony Zarza received a $500 scholarship from Bridging the Gap on August 13! Celeste Palmer and Jeff Willard represented the group and proudly congratulated this young husband and father who is starting the next chapter of his life.
Tony chose to study nursing because nurses meant so much to him in his recovery. We'll have a more in-depth bio on Tony shortly. Citrus College gave $100,000 in scholarships to 287 students, most in the $500 range, at this huge breakfast reception. Congratulations, Tony!